GLOATING US cops who nicked former Death Row Scot Kenny Richey more than 20 years ago sent him a cheeky greetings card in jail - taunting: "Are you still smiling?"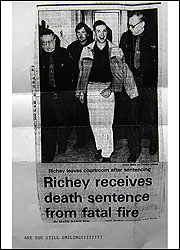 Detectives Steve Stechschulte and Roy Sargent typed the jibe on an old newspaper photo of the beaming con - and posted it to his cell at Saughton nick, where he's on remand on an assault charge.
The delivery from the cops who arrested him over the 1986 murder of Cynthia Collins included a 'Thank You' card with the message "You're back where you belong".
Last night, former Deputy Sheriff Stechschulte admitted sending the barbed taunt - and insisted he still thinks Richey is a "killer".
He said: "It's between Richey and the two of us - no one else.
"The man is a killer. You ask the family of Cynthia Collins what they think of him.
"He'll do the same in Scotland - I can guarantee it."
The 94-cent airmail package included a drab brown card signed by both cops, and a news clipping on Richey's sentence.
It also featured a striking image of the Scot grinning as he was led from the courthouse in 1987.
Last night, Richey revealed he's stuck the note to his cell wall.
But in a bitter outburst, he accused the American detectives of withholding crucial evidence which could have spared him jail.
Richey raged: "The two cops who signed the card were the arresting officers in the case. They hid evidence from the very start.
"I couldn't care what they think. They are both lying son of a bitches. I hope they rot in hell."
The package - franked in Lima, Ohio, on August 21 - was addressed to 'Ken' Richey at Saughton prison in Edinburgh.
And the sender's address - Putnam Co Sheriff in Ohawa - was written on the top left corner of the envelope.
Richey spent 21 years on Ohio's Death Row before he was freed in January after agreeing a plea bargain to quash his conviction for Cynthia's murder.
He always denied starting the house fire that killed the toddler.
And he was eventually sentenced to time already served on reduced charges of attempted involuntary manslaughter, child endangering and breaking and entering.
Retired Stechschulte and Sargent - still a Putnam County Sheriff's Deputy - arrested the ex-US Marine on the night of the blaze.
A short time later, Richey is said to have told Sargent that prosecutor Randy Basinger was a "dead man" and that whoever testified against him "better hope he's six feet under".
Stechschulte - now a police instructor - was lead detective on the case and the first person inside the apartment where Cynthia died.
When the Scot was released this year, the angry cop insisted: "Knowing the facts that I knew, that man committed the crime. There is no doubt in my mind."